If you appreciate vintage tube test gear, you will enjoy this 1940 vintage Jackson 634 Tube Tester. It is an excellent choice for anyone looking for a quality, well-built, tester that can test the VERY OLD tubes, such as #50, 01A, 1V, #10, 2A3, #15, #19, HY113, HY115, HY125, #26, #45, 71-A, #83, etc.
This article is also relevant to Jackson 637 tester, which is same as model 634 tester with additional integrated multimeter functionality (volts and ohms testing).
(Jackson 634 testing Cunningham CX-350 Globe #50 Triode tube)
What is really "cool" about this tester is its very small size. Measuring only 8.5 x 8.5 x 6 inches and weighing 9 lbs, this unit packs a big punch in a small size!
This tester has been in my personal collection since 1990, and it is the oldest tester in my collection (except for a Supreme 550 Radio Tester from 1936, which also has some basic tube testing capability).
This tester is so old that it did NOT come with a 9-pin-miniature socket installed — that was too modern!
(Article UPDATE, Nov 3, 2008): I found an original Jackson modernization bulletin, and the Jackson 634 and 637 testers were released in 1939. All 1939 models were sold without the 9-pin-miniature socket installed. The 1940 models were already modernized at the factory.
I have installed a new 9-pin-miniature socket, and will teach you how to "modernize" your 1939 vintage Jackson 634 also. (Jackson sockets are wired unique, and do not correspond to the 1-to-1, 2-to-2, wiring that many testers employ).
Service information and many additional photos are as follows…
SERVICE INFORMATION


Do you need paperwork for your Jackson 634 or 637 tube tester?
Remastered paperwork package that consists of operating instructions for both models 634 and 637, plus 3 different tube setup charts, plus one more setup chart supplement, plus Ballast tube setup chart,
all for $8.79 free ship USA.

The entire tester has been reconditioned, inside and out. Outside, the case had been repainted when I original acquired it (back in 1990). Recently, a new leather handle has been installed.
Electrically, the tester has been completely serviced and test results checked for accuracy. First of all, the 634 uses a #30 Triode tube inside. The #30 tube is actually used as a diode in the circuit, and I have upgraded this by replacing the tube with a solid-state diode, which provides more stability. If you have a Jackson 634 and are having a problem where the Line will not set properly (Line sets too low even at highest position), then your #30 tube is weak.
Likewise, the unit has been recapped, and all resistors checked for accuracy. All electronics and panel have been meticulously cleaned, including all sockets treated and massaged with Deoxit and all switches cleaned.
Here are photos showing the inside of the tester, along with photos demonstrating proper shorts and leakage detection:
(Jackson 634 inside after cleaning, recapping, and 9-pin-miniature socket installation)
(Jackson 634 shorts test working properly — notice very bright Neon Light)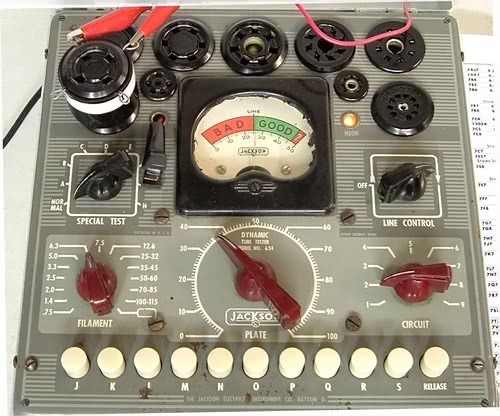 (Leakage Test. Notice more dim response from the Neon Light, which is proper. The more leakage, the brighter the Neon will illuminate. [More leakage = closer to Short]. In this photo, you see a demonstration of detecting a half-meg leakage, which causes a medium Neon illumination.)
Socket Upgrade
As previously noted, the early Jackson 634 units did not include a 9-pin-miniature socket. I have installed this socket. For those of you with early 634 units without this socket, here is my chart showing the connections:
Photo Gallery:
(Jackson 634 testing RCA 12AX7A dual triode tube)
(Jackson 634 testing new 807 power output tube).
regards,
Bob Putnak.
eBay ID = rjputnak
© 2008. All rights reserved.