Occasionally I plan to write about a few of my favorite items from my personal collection. Here is an NOS NIB NEW genuine Tucker Corporation auto radio, built for the 1948 Tucker Torpedo car.
Tucker Corporation was the company founded by Preston Tucker to sell his revolutionary 1948 Tucker Sedan, known by most people as the Tucker Torpedo. This is the genuine Tucker factory radio for the Torpedo, NOS NIB NEW.
This radio was found from a very elderly man who had "put a down payment on the car" and someone told him that he "had to buy the radio right now" (even though the Tucker Torpedo had not been built yet!)
Obviously, the Tucker Torpedo was never built, so the old fellow was left with a new car radio that he could not use. So, it sat on a garage shelf for more than 50 years until I purchased it from him.
Here are some interesting facts about the radio….
The radio was actually built by Motorola, a popular auto radio manufacturer
The radio is 6-Volt design.
There is no radio "head" inside the box. (By "head", I am referring to the "Automatic Radio Control Head" — which is basically the part that mounts into the car dash, and has the dial to tune the stations and turn the volume.)
Apparently the head was going to be installed in the car itself, and either you (or the dealer) was supposed to install the radio.
The box includes the main guts of the radio, a box of metal cables that connect the head to the main radio (these cables control the Volume and the Station Tuning), a small sealed package that probably contains screws, a Tucker warranty sheet, and a Tucker/Motorola warranty disclaimer tag.
There is also a cardboard sleeve for the Automatic Radio Control Head, but again the Head is not present, and the old man said it never was present, and that when he asked the local dealership about the Head, they told him it would already be installed in the car from the factory.
The local Tucker dealer address is stamped on the side of the box. Main Street Garage, 4100 Main St., Munhall, PA.
Here are closeup photos….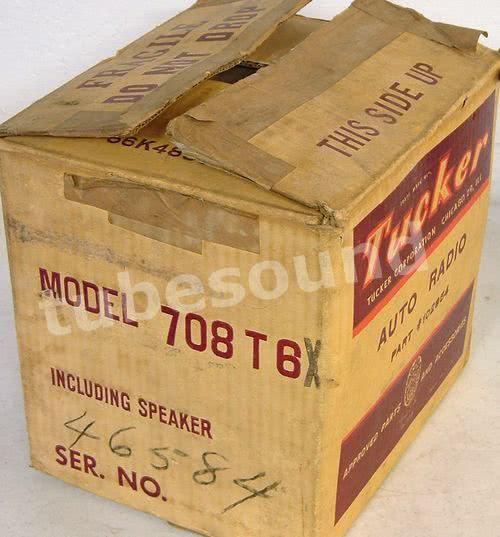 If you would like to read more about Preston Tucker and the Tucker Torpedo, visit the Wikipedia links below.
Read about Preston Tucker on Wikipedia [Click HERE]
Read about the 1948 Tucker Sedan on Wikipedia [Click HERE]