Here is a gorgeous PHILCO model 20 DELUXE tube cathedral radio.
This radio is from my own personal collection. I have owned it for close to 30 years.
Price is $225 + shipping (or pickup). Working condition. Awesome cosmetics in my opinion, a real beauty. (Output tubes and rectifier tube will be different from the ones you see in the photo.)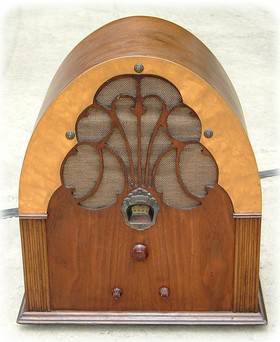 Safer double-boxing of this radio will end up making the shipping cost somewhat expensive (due to the weight of the radio and the resulting large size of the outer shipping box.) If you are a penny-pincher regarding shipping costs, then this item is not up your alley.