Mills THRONE of MUSIC 78rpm jukebox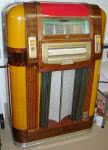 Here is a late 1939-1940 vintage Mills THRONE OF MUSIC 78rpm jukebox.
This jukebox has had a LOT of refurbishing done to it back in the early to mid 2000s, but I never finished the project and no longer have an interest in doing so.  I am selling all of my jukebox collection, not just this machine, so if you have other interests let me know.
I would estimate this Mills, approx 85-90% of the jukebox has been refurbed and really doesn't need much more done to it except the final tweaks and tuneups that would be part of any refurbishing.
Partial list of what I had already finished:
Amp rebuilt (no tubes are being included)
electrically re-wired cabinet lighting AND re-wiring of the selection receiver
cabinet refinished beautifully
new grill cloth
top plastic above the title bar was replaced with most suitable replacement that i could come up with
new line cord
probably a lot more has been done than what I already mentioned
I have no plans to finish the project.  I never got around to "fine tuning" the mech.  The mech does work (as of 2008) but tracks a bit heavy, although that is common for a Mills jukebox.  Coin gear was working last time I checked (again, circa 2008).
I haven't done anything with this project since around 2008 and no plans to invest any more time into the project.  My price is VERY LOW for a jukebox that has already had HUNDREDS of HOURS of quality work invested into it.

Price is $1150 or best offer, sold AS FOUND.  Pickup in person strongly preferred so that you can look it over yourself.  Otherwise, I MIGHT be able to arrange affordable shipping to the Chicago jukebox show but that would be between you and the driver.